Our very own resident needlepoint designer and artist has reviewed two wonderful books for our stitching libraries! Jennifer R. is a certified NAN judge and needlepoint creator whose work is shown and taught nationally. Both books were reviewed as part of her NAN Judges' Certification process.
1.) Three-dimensional Embroidery
Author: Janet Edmonds. Methods of construction for the third dimension. Batsford, London, England, 2009.
Three-dimensional Embroidery book report
2.) Canvas Embroidery/Couching
Author:  Ann Strite-Kurz Creative Canvas Couching. Self Published: 2005
Creative Canvas Couching Book Report
– – – – – – – – – – – – – – – – – – – – – – – – – – – – – – – – – – – – – – – – – – – – – — – – – – – – – – – – – – – – – – –
Don't forget to buy threads for the Laura J. Perin design, 'Independence Day,' which is to be stitched starting with the June 16 regular meeting!
Bring your latest and greatest show & tell items!
And don't forget to check out our ADVERTISERS, linked above, and do your shopping locally.  We all love our shops and the instant access they give to needed supplies!
Happy Stitching and see you all June 16…
Denver-area needlepoint lovers are invited to join us for our "Annual Holiday Party" and potluck supper on Monday, November 18 at 6:50 pm at Bethany Lutheran Church. If you wish to participate in our gift to exchange (under $10 is recommended cost), please wrap and bring it. Also, please bring a non-perishable food item to be donated to one of our local food banks. Tis the season to share!
It's the grand finale of our Cookie Cutter Ornament Contest! The winner will be chosen by popular vote and a prize awaits the most creative needlepoint creation.
For those who are working on the year-long "Galaxy" project, January will be the time to bring your completed projects. We are eagerly looking forward to seeing how many people have finished their needlepoint pieces. There will be a nice surprise for ALL who have finished "Galaxy."
For your calendars, plan on these upcoming meeting programs:
December, 2013:
No formal meeting scheduled. Enjoy your holidays with family and friends.
January, 2014:
-Finished "Galaxy" can be presented to the membership for ooos and aaahs.
-We will begin "Honey I Shrunk the Heart, Square or ?"
Information will be given out at November 18 meeting.
-Nominations for new officers presented to the membership
February, 2014:
-Continue: "Honey I Shrunk the Heart, Square or ?"
-Finishing ideas.
-Members may add names to the nominations for new officers.
March, 2014:
-Spring Garden Humbug, and Floss Holder.
-Election-of-Officers.
April, 2014:
-Finishing Spring Garden Humbug and Floss Holder.
-Installation of new officers!
Looking forward to seeing all of you Monday for the Annual Holiday Party!
They're gorgeous, they're on public display and they're ours! The needlepoint masterpieces created in 1991 by the Colorado Columbine Chapter of the American Needlepoint Guild are still as stunning and vibrant as they were upon creation. The tapestries have been on public display, a gift to the city of Denver from our guild, for 20 years now. The triptych of magnificent designs by artist William Hook were interpreted in beautiful colors of wool yarn and stitched by our members.
Each panel is 6'x 6′ — a vast surface on which to stitch, and every inch of each panel is a blend of colors to depict the three seasons and aspen trees in the original art.
Viewed from afar, the designs create beautiful seasonal scenes in a blend of colors, textures and reflection of light. The view close up is vastly different and shows the skill and artistry of the stitchers. Below, see the textures afforded by the different stitches. Basketweave is clearly evident, but also see how the long, vertical stitches bounce the light.
CCC-ANG member Caela Conn Tyler spent many hours selecting just the right threads and blends of colors to maximize the effect in the exact lighting in which the needlepoint tapestries would hang. There is a plaque nearby commemorating her contribution and that of our guild.
Let's see more close-up views in these photos, taken by Cynthia L….
Our thanks to our president, Lea K., for organizing our field trip to the Colorado Convention Center. She was curious enough to honor past members' monumental contribution to our city by taking a trip to view them in person. Also, thanks to Erin Knight of the Colorado Convention Center for giving us the tour and making the visit special by sharing stories of interesting events in the ballroom. And many thanks to photographer Cynthia L. for providing these wonderful photos of our trip.
Most of all, thank you to the current and former members of the Colorado Columbine Chapter of the American Needlepoint Guild for producing such a magnificent and memorable work of public art.
Our group, the Colorado Columbine Chapter of American Needlepoint Guild is meeting on Monday, September 16, at 6:50 pm at Bethany Lutheran Church in Denver.
Our president, Lea K., leads us each month as we discover new needlepoint techniques, stitches and friends. On the 16th, our program chair, Barb G., will introduce a new project: Cookie-Cutter Contest. Canvas in 14-gauge will be available free, and some 18-count canvas will be available for a small fee. Bring a favorite cookie cutter to trace and finish your entirely personal design by November's meeting to enter the judging! Get creative and crazy with your own design and threads! Sky's the limit here!
Also, it is time to renew our annual memberships! Keep needlepoint alive and kicking with a low-cost membership in CCC-ANG ($26). Membership chair Tina H. will be encouraging each of us to pay now and glide into holiday stitching carefree. Let's make her job easier and pay on time. See Tina on the 16th and renew your annual membership. Or, find her mailing address in the roster and get your $26 check in to her asap! You will NOT want to miss a moment of needlepoint enjoyment.
Also happ'nin September 12-15 is another bead show at the old Denver Merchandise Mart Annex, 451 E. 58th Ave. Admission is free to check out the bead artists, merchants, buttons, jewelry, antiques, books, tools and supplies. For more info, see The Renaissance Bead Show at www.beadshow.com .
And the Colorado Needlepoint Roadshow was a sure hit with members!
Now, THIS is the kind of fun needlepointers can expect when they get together with other stitchers! Colorado Columbine members showed up in good numbers to enjoy the recent Colorado Needlepoint Roadshow in Castle Pines:
Denver-area needlepoint stitchers will want to know about the Colorado Columbine Chapter of the American Needlepoint Guild, where we are all about making lifelong friends. Our common interest in doing needlepoint becomes an addictive pleasure that's enhanced by getting together to savor others' needlepoint projects.
The thrill of finding a new canvas design and selecting beautiful needlepoint threads and yarns with which to decorate it is a feeling known to all needlepointers. And we like to share that thrill — if you are a beginning stitcher, no worries! You will find a welcoming and encouraging group of enthusiasts at Colorado Columbine. We take a summer break from our monthly meetings in August, but will meet up again on September 16 for our regular chapter meeting at Bethany Lutheran Church. Check out our Facebook page HERE.
Also in September, starting Friday, Sept. 6 and continuing Saturday & Sunday, Sept. 7 & 8, is the COLORADO NEEDLEPOINT ROADSHOW! hosted by Jill Likes, owner of The Needlepointer in Everett, WA and Karen Barton of The Pine Needle Shop, Custom Needlepoint Finishing in Castle Pines. This is a first-time needlepoint event in Colorado and is a full-on celebration of needlepoint. It is to be held at the Castle Pines Community Center, 7404 Yorkshire Drive, 80108. The three-day format allows plenty of time for shopping — there are many designers participating, bringing 'trunk shows' and new threads and hand-painted canvases.
On Friday, there will be classes in thread painting, ribbon stitching and beading and opportunities to chat with experienced stitchers. On Saturday, a full-day class on a Melissa Shirley design will incorporate some of the techniques you can learn on Friday. So plan to stop by on any (or all) of the three dates in September — bring a piece to stitch or start right in on a new canvas you've selected from all the designers on offer at the Colorado Needlepoint Roadshow. Find out more details HERE and see some amazing needlepoint canvases that will be at the show!
Needlepoint stitchers enjoy a variety of canvas sizes, threads, colors and designs when they choose new projects on which to stitch. Needlepoint is counted stitching done on a grid of stiff canvas. Many of our members started their stitching lives using embroidery threads on linen. But it is a natural progression to move on to the art of creating beautiful stitched scenes of infinite variety on needlepoint canvas.
If you've always wondered what needlepoint entailed, you've landed on the best place ever to learn more about it!
The Colorado Columbine Chapter of the American Needlepoint Guild is a group in which learning and sharing adds to the pleasure of doing creative needlework. This month, some stitchers took a class to assemble a holiday design incorporating patches of fabric. Others worked on their current favorite projects and caught up with friends. Show and Tell is always a highlight of our meetings as stitchers get to display their finished works for all to see. We see framed pieces, pillows, ornaments, stand-up figures of santas and animals and so on. Stitchers new to needlepoint get all kinds of inspiration from this monthly event.
We took a FIELD TRIP this month to the Spun! exhibits at Denver Art Museum. What a pleasurable experience it was to immerse ourselves in threads, stitching, fabrics, clothing, tools and fibers! There was not much needlepoint to view, but glorious fabric displays and a fascinating community project in progress creating a crocheted 'reef' of coral.
Here's a look at what's planned starting at our next meeting:
SEPTEMBER 16: Cookie-Cutter Canvas Contest! Each member who would like to do the project should bring a favorite large cookie cutter. It will be traced onto 18-count or 14-count canvas (supplied). Bring your own threads, but look forward to getting some stitch suggestions and design ideas from colleagues. At the November meeting, stitchers will vote on their favorite finished cookie-cutter design.
OCTOBER 21: Learn to make an easel to display your finished needlepoint pieces! Display of our work is an important aspect of doing needlepoint. If on display, it can be inspected closely or enjoyed from afar. Not every piece of finished needlepoint needs to be framed for the wall. Learn some new options, starting with this fabric-covered easel from a FanciMats pro.
FIELD TRIP! On a date to be determined, Colorado Columbine Chapter of ANG will take a trip downtown to see three tapestries created by our members as a gift to the public. They are on view in the Colorado Convention Center, where thousands of people have enjoyed their beauty over the years. Our members worked hard to create these works of art and new members will enjoy hearing how they came to be.
NOVEMBER 18: Our annual holiday dinner and party is once again on the agenda. This time, it falls during the week before Thanksgiving, which may be better timing for the cooks among us. This is a popular event, as our Show and Tell table will no doubt be full of finished works.
So, please feel free to drop in to our gathering on any of these dates. Our meetings are short, our threads are long and we are eager to share our love of needlepoint!
Members might like to take a peek at our newest advertiser, HERE.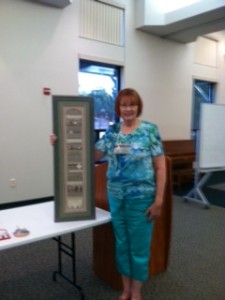 Vicki S. shows the group a beautiful stitched sampler recently finished.
Join us and bring a guest to the JUNE needlepoint meeting of Colorado Columbine ANG.
The gathering starts at 6:50 p.m. at Bethany Lutheran Church (Our regular meeting day is the third Monday of each month until we take a break in August, then we'll meet up again in September!).
Last month, we enjoyed a guest speaker who knows the intricate concerns we have about finishing and framing needlepoint.
Don't forget to bring your Show & Tell items to get the ooo's and aahh's going over your beautiful finished needlepoint! It's a highlight of many of our gatherings and an inspiration every time.
See you Monday!
We look forward to seeing everyone at the CCC/ANG Annual Banquet this Monday April 15th, at 7:00 pm.
This much anticipated Banquet will feature a fresh menu from a restaurant with several locations around Denver.
Wishing our newly elected Board Members all the best in their upcoming terms!
Lea K. will be serving as our President, Sandy F. will be serving as our Treasurer, and Karen B. will be serving as our Secretary!  Thank you so much to all of our volunteers!
Stay tuned for an updated President's Message from Lea on our website!