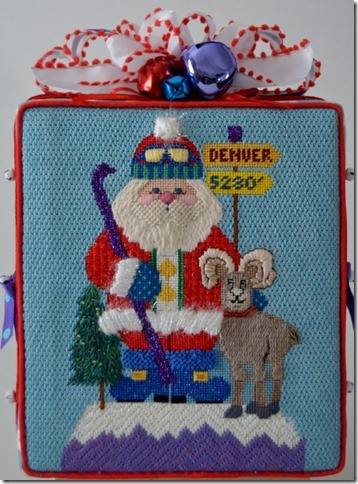 Mile High Santa!
Can you believe we will be offering this adorable D-E-N-V-E-R Santa Claus as a class in June?  The Mile High Santa  is designed by Libby Sturdy and comes with a stitch guide!  It's not too late to sign up — be at the February meeting on Tuesday, the 17th to get your name on the list.  Barb will tell you how much he costs.  As always, it is possible to use threads you already own to complete this design.  Which, by the waaayyy, is waaaayyy more beautiful than any photo can show.
This month's class is the start of the year-long project, Variations Sampler by Custom House Needle Arts.  The correct stitch books will be available at the meeting.  The Gumnut threads that are used in the original sampler are available through Christine Hause of The Stitching Shop.  You can download the picture of the sampler, thread list, schematic of the blocks HERE.  Or, just enjoy the luscious colors you can be using by viewing the sampler here: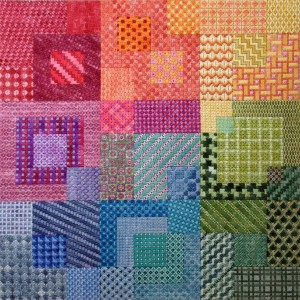 Variations Sampler!
REMEMBER!! We meet TUESDAY, FEB 17 because the church is closed on Monday for Presidents' Day!!
Colorado Columbine Chapter, American Needlepoint Guild
Third Monday of each month except Aug & Dec., at 6:50 p.m.
Bethany Lutheran Church
4500 E. Hampden Avenue
Cherry Hills Village, CO 80113
Email us at columbineang@gmail.com for more information.
---
Comments are closed.