The calendar of Denver's oldest needlepoint group is filling up rapidly! Here's what's heading your way for the rest of 2015 from Colorado Columbine Chapter of the American Needlepoint Guild: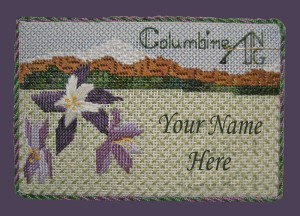 MAY 18:  Expect some help getting your Colorado Columbine Chapter name tag finished as we tackle this easy design by one of our own designer-members, Jennifer Riefenberg. Here is the link to instructions & threads.  Our president and programs chairs, Gloria & Barb, are preparing the canvas needed to work this project.  Check the thread list, bring 8″ x 8″ bars, pull some goodies from the ol' stash, and come with needle loaded for some fun stitching! It's a lovely columbine design that can certainly be varied by each stitcher.
Fancy a new magnet? Get a glittery, S-T-I-T-C-H magnet from ANG. See Julie S. at the MAY meeting to put in your order. Cost is just $20, checks made out to CCC-ANG, and the chapter will pick up postage.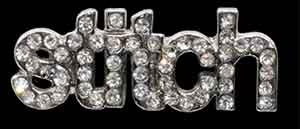 JUNE 15:  You've seen him, fallen in love with him, signed up for him and now will create him:  Libby Sturdy's 'Mile High Santa,' a charming, Colorado-themed design that will be taught by our president, Gloria. Here is her finished standup, is  below. Stitchers taking the class will be provided with an 18-count canvas that has a design already drawn. Stitch guide is included. There will be some surprises offered, so sayeth the grapevine, so be on time for this anticipated class!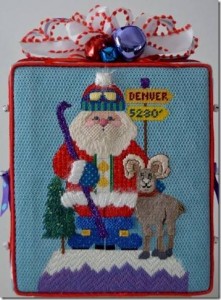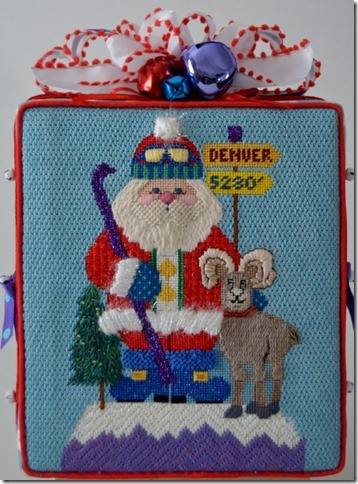 Mile High Santa by Libby Sturdy
JULY 20: Put the final flourishes onto your delightful 'Mile High Santa' and plan his display as… what, a standup? A framed piece for the mantel? The center of a holiday pillow? The choices are many, and yours.
AUGUST: Take a break from meetings, but never from stitching, right? No formal gathering, but plenty of lazy days for tackling that stash of WIPs! Make us proud!
SEPTEMBER 21: A delightful design, all sparkly and wintery, is planned for the fall months at CCC-ANG. See the piece, below, called 'Snow Crystal Tree' by Nancy's Needle, which will be taught by Barb G.  Cost is $15 for directions and beads (!) and signups will be taken at meetings May-July. Design size is 8.3″ x 8.3″ on a 12″x12″ canvas.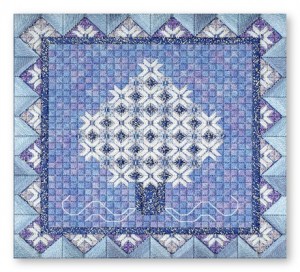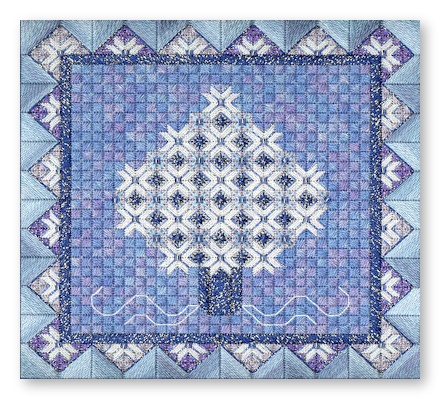 OCTOBER 19: Last touches of 'Snow Crystal Tree' will be added — think beads and sparkles! This piece is a wonderful winter design, not necessarily holiday oriented, so it can be enjoyed all season.
NOVEMBER 16: It's our tradition to enjoy a holiday gathering, so expect an enjoyable social event with your stitching friends, old and new!
DECEMBER: No meetings, but there may be a field trip or two in the works. Watch this space!
Colorado Columbine Chapter, American Needlepoint Guild
Meets Third Monday of each month except Aug & Dec., at 6:30 p.m.
Bethany Lutheran Church
4500 E. Hampden Avenue
Cherry Hills Village, CO 80113
Email us at columbineang@gmail.com for more information.
Follow us and see our finished needlepoint on Facebook: https://www.facebook.com/ColoradoColumbineAng
---
Comments are closed.