This is an important reminder that our February Chapter meeting will be on Tuesday, February 19th at 6:30pm.  Bethany Lutheran is closed on Monday in observation of President's Day, and therefore we will meet on Tuesday evening.  Please brave the cold and come join us for a great meeting!
Show and Tell on Tuesday will be featuring your first projects!  I can't wait to see the progress people have made in their stitching. My first project is framed and dated 1989 – when I was 11 years old!
Barb has organized a wonderful program this month – a beautiful Embellished Egg that you should be able to complete before Easter in March!  There is still time to sign up, so let me know if you are interested.
Remember you can print the instructions from www.dmc-usa.com.  Look for Inspirations on the top of the bar, then go to Projects.  Under projects, go to Memory Thread projects, and you will find the link for the Embellished Egg at the top of the list.  Remember that you can use threads from your stash, get some new threads in wonderful spring colors.  The satin floss called for is available at Joann's, and I think Hobby Lobby and Michael's, if you wish to use it. Satin floss is a rayon thread and slippery as well as shiny–think Marlitt.  In addition to your threads and directions, you will need a 10×10 piece of 18 count canvas and stretcher bars.   If you want us to print directions for you and supply a piece of canvas, the cost will be $4.00.  You may purchase just the canvas or just the directions for $2.00 each.  Please let us know by Friday, if you would like us to supply either the directions or canvas for you.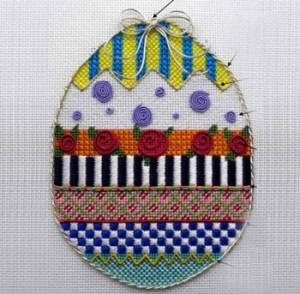 We will also be working on the Galaxy Needlepoint project by Needle Delights Originals!  This year long project was started in January and we will be continuing it at our meeting on Tuesday.
---
Comments are closed.