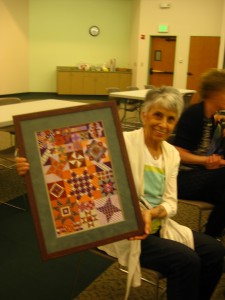 Barb shows a magnificent finished piece at a recent Show & Tell.
Denver-area needlepoint lovers are invited to join us for our "Annual Holiday Party" and potluck supper on Monday, November 18 at 6:50 pm at Bethany Lutheran Church. If you wish to participate in our gift to exchange (under $10 is recommended cost), please wrap and bring it. Also, please bring a non-perishable food item to be donated to one of our local food banks. Tis the season to share!
It's the grand finale of our Cookie Cutter Ornament Contest! The winner will be chosen by popular vote and a prize awaits the most creative needlepoint creation.
For those who are working on the year-long "Galaxy" project, January will be the time to bring your completed projects. We are eagerly looking forward to seeing how many people have finished their needlepoint pieces. There will be a nice surprise for ALL who have finished "Galaxy."
For your calendars, plan on these upcoming meeting programs:
December, 2013:
No formal meeting scheduled. Enjoy your holidays with family and friends.
January, 2014:
-Finished "Galaxy" can be presented to the membership for ooos and aaahs.
-We will begin "Honey I Shrunk the Heart, Square or ?"
Information will be given out at November 18 meeting.
-Nominations for new officers presented to the membership
February, 2014:
-Continue: "Honey I Shrunk the Heart, Square or ?"
-Finishing ideas.
-Members may add names to the nominations for new officers.
March, 2014:
-Spring Garden Humbug, and Floss Holder.
-Election-of-Officers.
April, 2014:
-Finishing Spring Garden Humbug and Floss Holder.
-Installation of new officers!
Looking forward to seeing all of you Monday for the Annual Holiday Party!
---
Comments are closed.