The G-A-R-A-G-E  S-A-L-E is upon us, needlepointers! Clear out the old to make way for the new!  Think about that new painted canvas you've spied recently and think how free you will feel to stitch it — once your stash has been cleared up a bit… Ahem!
So mark the calendar for Monday, May 19, 6:50 p.m. in the Great Hall of Bethany Lutheran Church, Hampden & Dahlia Streets. And remember, the Great Hall can sometimes be divided into three rooms, so seek us out in one of the adjacent spaces if you don't spot the group in the first room.
Bring your sale items marked with prices if possible — $5, $10, $100 or whatever.  Just 20 percent will be cut out for the chapter, unless you generously earmark ALL PROCEEDS to CCC-ANG — a wonderful gesture for your favorite needlepoint group!
Also on tap will be Janet Gebow, teaching Part 2 of 'Everything you've ever wanted to know about Needlepoint, but were afraid to ask!'  In just 20 minutes, Jan will show stitchers needlepoint tricks and techniques never dreamed of… we've got the canvas, just bring some threads and a needle and learn new goodies for your stitching repertoire!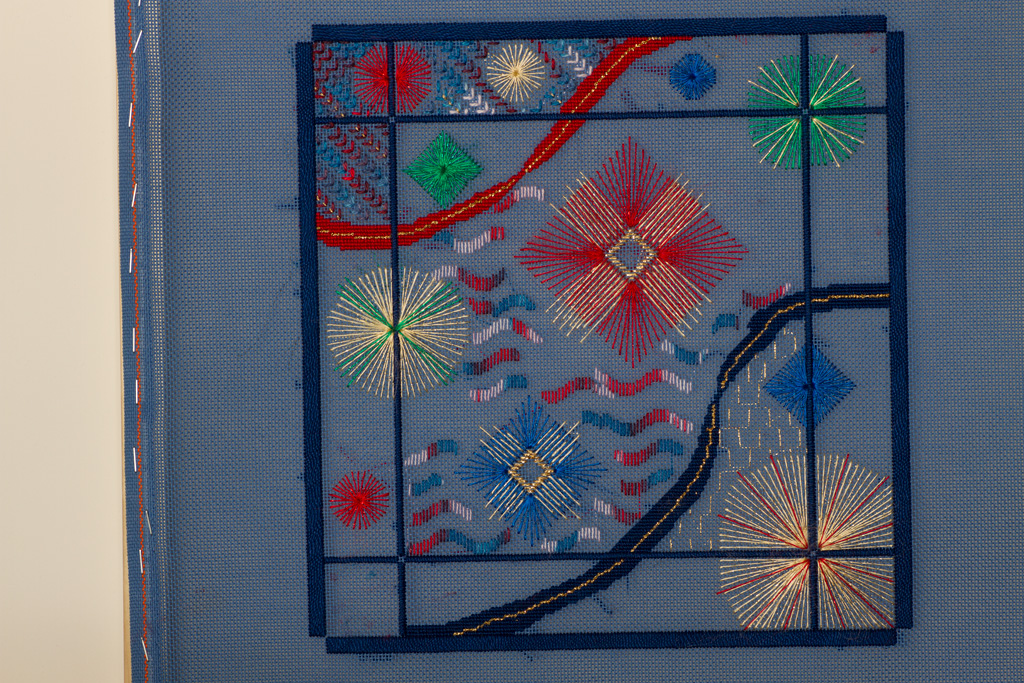 Independence Day canvas
It will also be THE VERY LAST CHANCE TO SIGN UP FOR 'Independence Day,' a beautiful firework-y design by Laura J. Perin on a gorgeous Delft-blue canvas.  Cost is only $13, so jump in while the jumpin's good!
See you all on Monday, May 19, 2014!
And a very happy Mother's Day to all of you who are blessed with that privilege.
---
Comments are closed.