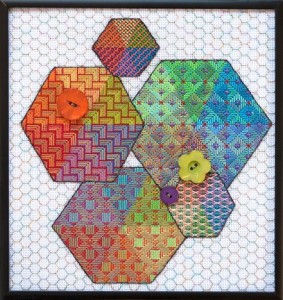 "Color Play" by Jennifer Riefenberg
Alert! Denver Metro Needlework Consortium members!
Two fabulous local needlepoint teachers, Toni Gerdes and Jennifer Riefenberg, will be teaching tandem pilot classes  "Autumn Three Ways" and " Color Play"  on March 13-14, 2015 at the Inn at Palmer Divide. Be sure to register for one of the two!  Don't we all wish we could be in two classes at the same time? Mais oui! you can also obtain the kit alone for the other class if you wish. No need to miss this opportunity for affordable instruction from great national instructors.
All CCC-ANG members have already received this information via email. If you need it, the information and registration form can be found right here on the Colorado Chapter EGA website  .
"Autumn Three Ways" by Toni Gerdes
Aaand, you can beat the rush! In early November, these classes will be made available to both the EGA and ANG chapters in Colorado Springs. It is anticipated that the classes will be filled by these remaining groups.
PLEASE NOTE THAT THE GROUP RATE FOR ROOM RESERVATIONS PERTAINS ONLY TO ROOMS RESERVED BY PHONE. GROUP RATES ARE NOT APPLICABLE TO RESERVATIONS MADE ONLINE. So CALL the Inn to reserve your accomodations.  This is a beautiful venue with a gorgeous restaurant and wonderful food.
---
Comments are closed.