Members of Colorado Columbine ANG visit the tapestries at the convention center.
They're gorgeous, they're on public display and they're ours! The needlepoint masterpieces created in 1991 by the Colorado Columbine Chapter of the American Needlepoint Guild are still as stunning and vibrant as they were upon creation. The tapestries have been on public display, a gift to the city of Denver from our guild, for 20 years now. The triptych of magnificent designs by artist William Hook were interpreted in beautiful colors of wool yarn and stitched by our members.
Each panel is 6'x 6′ — a vast surface on which to stitch, and every inch of each panel is a blend of colors to depict the three seasons and aspen trees in the original art.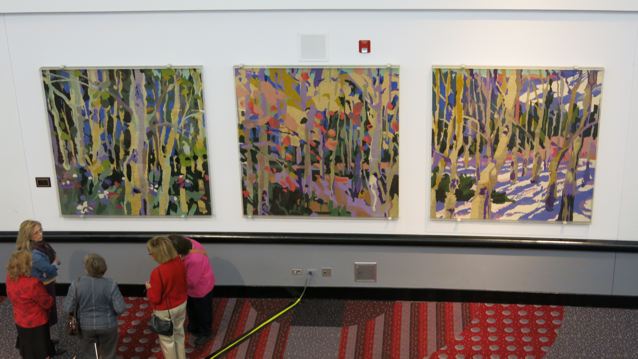 View from the balcony.
Viewed from afar, the designs create beautiful seasonal scenes in a blend of colors, textures and reflection of light. The view close up is vastly different and shows the skill and artistry of the stitchers. Below, see the textures afforded by the different stitches. Basketweave is clearly evident, but also see how the long, vertical stitches bounce the light.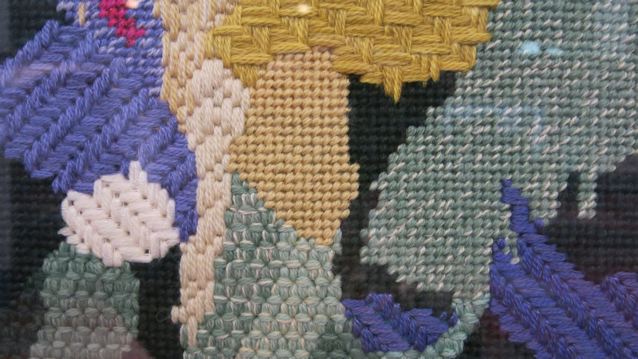 Close-up of tapestry.
CCC-ANG member Caela Conn Tyler spent many hours selecting just the right threads and blends of colors to maximize the effect in the exact lighting in which the needlepoint tapestries would hang. There is a plaque nearby commemorating her contribution and that of our guild.
Let's see more close-up views in these photos, taken by Cynthia L….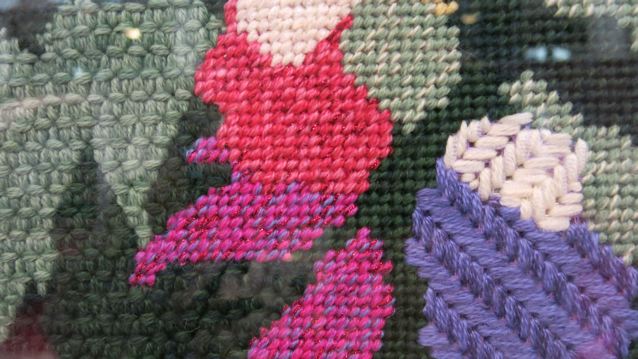 Closeup image of needlepoint stitches.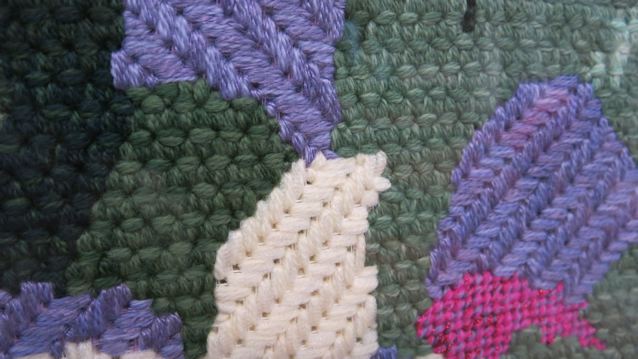 Closeup image of needlepoint stitches.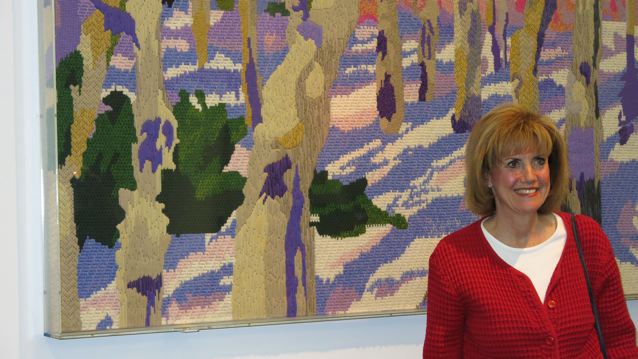 President Lea K. who organized the trip.
Our thanks to our president, Lea K., for organizing our field trip to the Colorado Convention Center. She was curious enough to honor past members' monumental contribution to our city by taking a trip to view them in person. Also, thanks to Erin Knight of the Colorado Convention Center for giving us the tour and making the visit special by sharing stories of interesting events in the ballroom. And many thanks to photographer Cynthia L. for providing these wonderful photos of our trip.
Most of all, thank you to the current and former members of the Colorado Columbine Chapter of the American Needlepoint Guild for producing such a magnificent and memorable work of public art.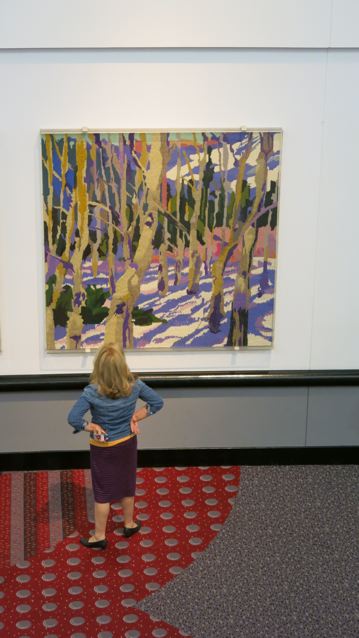 Needlepoint still glorious after 20 years.