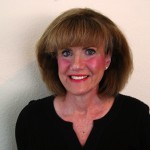 President Lea
By Lea K.
There are several more needlepointing books that everyone should take a look at! All are from the public library.
The "first" book, not to miss, is titled: "Folk Art Needlepoint – 20 Projects Adapted from Objects in the American Folk Art Museum," and written by Ruth Peltason, c 2008. This book is nicely organized thematically by types of folk art motifs – such as flowers and daily life and offers 20 projects and variations from the American Folk Art Museum that is the country's leading museum in this field. The author provides delightful notes on the motifs and museum pieces that are inspiring. Also, this book's talented needlepointer, Karyn Gerhard not only charted all the patterns, but stitched ALL the books projects. "Folk Art Needlepoint" also presented insightful commentary on motifs and original artworks presented from this museum.
Secondly, but no less important, is the book titled, "101 Needlepoint Stitches and How to Use Them," and the author is Hope Hanley, c 1986. Remarkable stitches, and best yet — the very same book available now as an E-Book – the on-line book electronic resource. Visually, the bold colors offered by the digital computer screen can show these actual stitches incredibly nicely. Additionally, librarians specializing in E-Books are nice resources. Please take a look at these not only interesting but entertaining books, as well.
These books can entertain on any snowy day.
BEST WISHES TO EVERYONE, YOUR FAMILIES AND FRIENDS FOR A
"HAPPY THANKSGIVING" AND "SEASONS GREETINGS."
Be sure to note the 2014 program information in next post…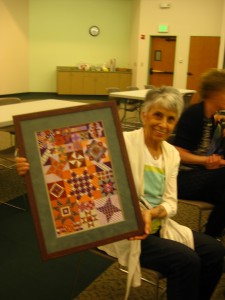 Barb shows a magnificent finished piece at a recent Show & Tell.
Denver-area needlepoint lovers are invited to join us for our "Annual Holiday Party" and potluck supper on Monday, November 18 at 6:50 pm at Bethany Lutheran Church. If you wish to participate in our gift to exchange (under $10 is recommended cost), please wrap and bring it. Also, please bring a non-perishable food item to be donated to one of our local food banks. Tis the season to share!
It's the grand finale of our Cookie Cutter Ornament Contest! The winner will be chosen by popular vote and a prize awaits the most creative needlepoint creation.
For those who are working on the year-long "Galaxy" project, January will be the time to bring your completed projects. We are eagerly looking forward to seeing how many people have finished their needlepoint pieces. There will be a nice surprise for ALL who have finished "Galaxy."
For your calendars, plan on these upcoming meeting programs:
December, 2013:
No formal meeting scheduled. Enjoy your holidays with family and friends.
January, 2014:
-Finished "Galaxy" can be presented to the membership for ooos and aaahs.
-We will begin "Honey I Shrunk the Heart, Square or ?"
Information will be given out at November 18 meeting.
-Nominations for new officers presented to the membership
February, 2014:
-Continue: "Honey I Shrunk the Heart, Square or ?"
-Finishing ideas.
-Members may add names to the nominations for new officers.
March, 2014:
-Spring Garden Humbug, and Floss Holder.
-Election-of-Officers.
April, 2014:
-Finishing Spring Garden Humbug and Floss Holder.
-Installation of new officers!
Looking forward to seeing all of you Monday for the Annual Holiday Party!