ALERT!!
Columbine ANG needlepoint members, Tuesday, February 18 is the last day to be sure you have a place in Toni Gerdes' Pilot Class for the beautiful Christopher Ornament! After Tuesday, it is open season and Consortium members will fill the available seats!
Toni's class will be held Saturday, May 17 at Bethany Lutheran Church. The cost is $75.00 plus your share of the room. A $50 deposit is required to hold your place. Final deadline for signing up is April 1.
Toni is a GREAT teacher, and this is a wonderful holiday piece. Please contact Barbara G., Columbine's progams director, with any questions. Scroll down to the previous posting on Consortium classes to view details and photo.
Our general meeting this month is Tuesday, Feb. 18, 6:50 p.m. at Bethany Lutheran, so head on in and sign up for Toni's class while you're here.
* * * * * * * * * * * * * * * * * * * * * * * * * * * * * * * * * * * * * * * *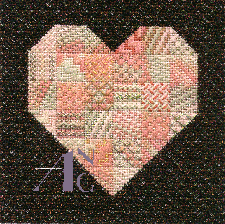 Stitch a heart!
Reminder, needlepoint stitchers! Our February meeting is on TUESDAY, FEB. 18 rather than our usual Monday due to the President's Day holiday when Bethany Lutheran Church is closed.
Again, we will meet at 6:50 p.m. on Tuesday, Feb. 18, in the Great Hall to resume our stitching of Honey I Shrunk the Heart with Cynthia L. Join us or bring your own current project!
Remember to bring your latest finished pieces for Show & Tell! Its the highlight of the evening…
Happy Valentine's Day, stitchers!