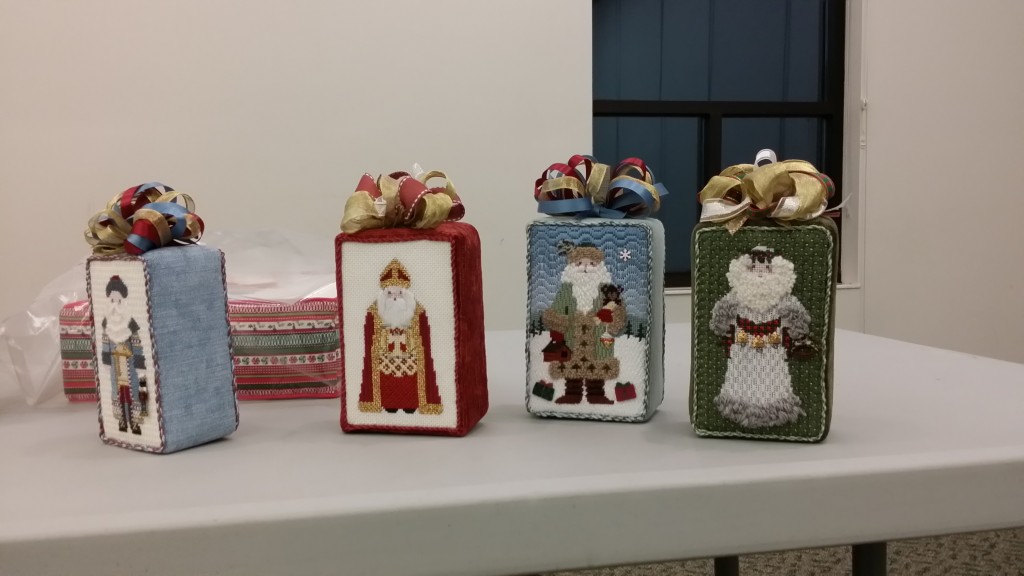 Four adorable Petei Santas by Shirley M.
It's always fun to stitch a needlepoint project during the season it's designed to depict.  Whether a dreidel for Hanukkah or a Santa Claus for Christmas, a pumpkin for autumn or a spunky rabbit for spring, there's just more fun and anticipation when the design seems to fit the weather.
This month, we know stitcher Shirley M. will have these adorable Petei Santas on display at her house. They are finished as standup boxes, each showing her skills as a needlepointer with varied stitches and a wide selection of threads. They invited close examination at a recent Show & Tell!  Below, Shirley shows an armful of her work: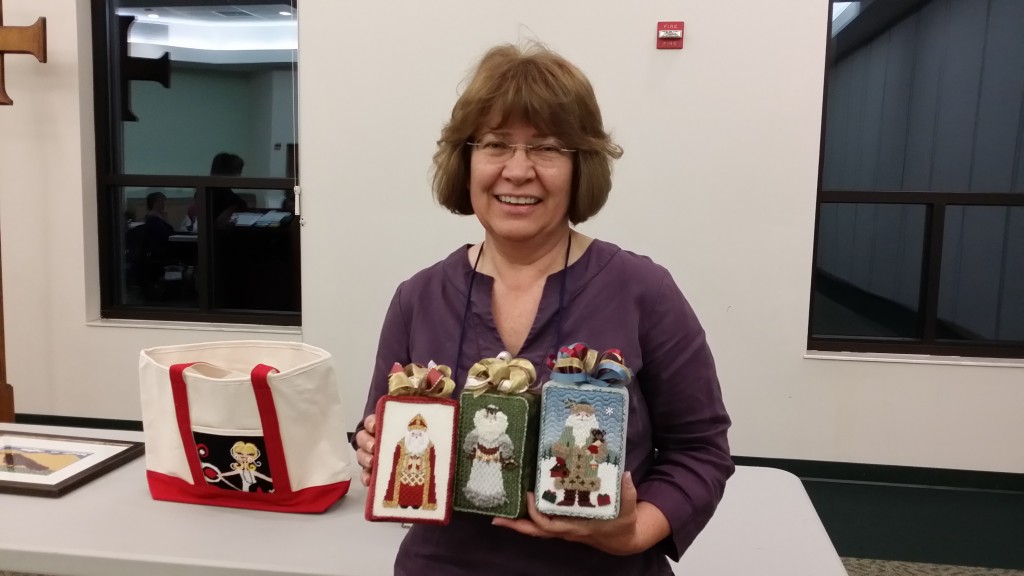 Shirley's cute Petei Santas!
And below, another recently finished Santa stitched by Shirley. Designed by Debbie Forney, the 'HoHoHo Santa' makes a triangular standup when finished: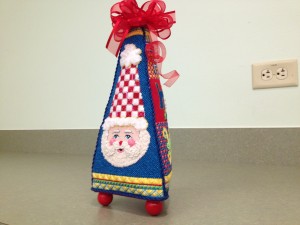 HoHoHo Santa by Debbie Forney
Be sure to check out our Facebook page (click the link above right, SOCIAL / OUR FACEBOOK PAGE) for more holiday photos.
Don't forget to visit our local needlepoint supporters, our ADVERTISERS (click on the tab at top), for your needlepoint supplies.
Happy Hanukkah and Merry Christmas! We will see you all on the third Monday in January, 2015 (no meeting in December). We DO meet on the Martin Luther King Jr. Holiday.
Colorado Columbine Chapter, American Needlepoint Guild
Third Monday of each month except Aug & Dec., at 6:50 p.m.
Bethany Lutheran Church
4500 E. Hampden Avenue
Cherry Hills Village, CO 80113
Email us at columbineang@gmail.com for more information.