Denver's fastest-growing needlepoint group, the Colorado Columbine Chapter of the American Needlepoint Guild, has members who stitch devotedly AND shape their projects into finished items.  Whether a finished piece is framed, puffed into a pillow or structured to stand up for display, needlepoint is meant to be seen and enjoyed.  Here are some of the goodies shown at our September meeting!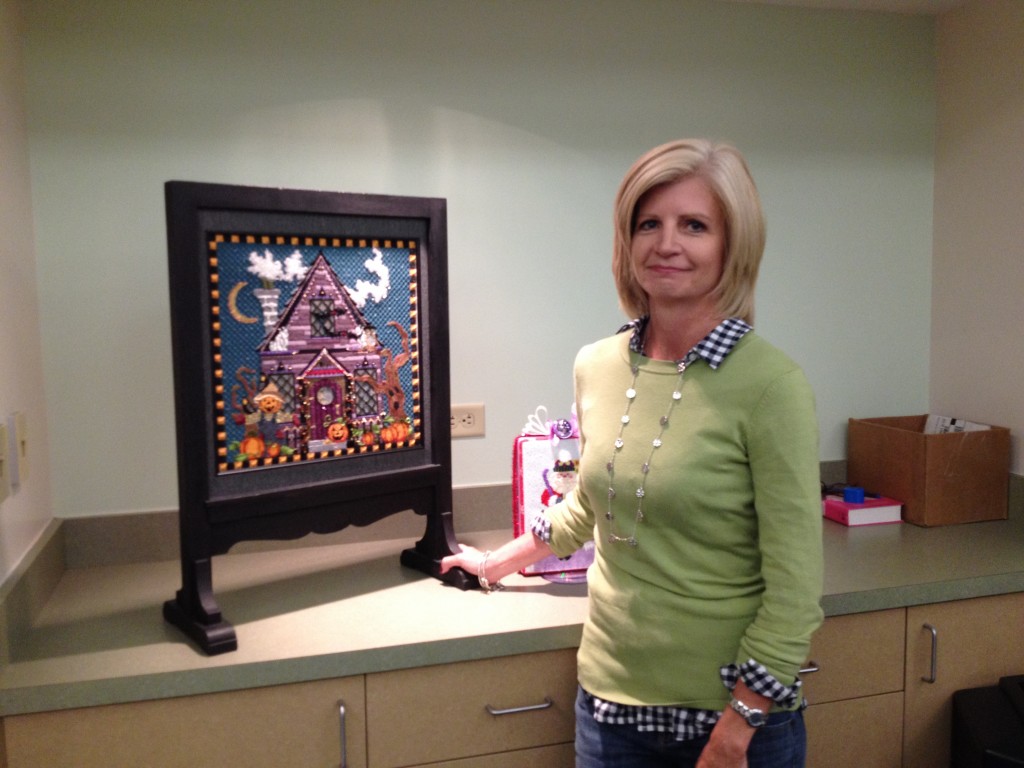 Julie's spooktacular firescreen!
Julie finished this long-term project, which her sister started, and sought a different way to finish it. She located an old firescreen for sale online and spruced up the wood. Her extraordinary Halloween needlepoint piece (beads! tricky stitches! variegated threads!) is on permanent display in it. Can we all agree it is a most effectual way to show a large work? Si! Here is a closer view, which, of course, all want want to see: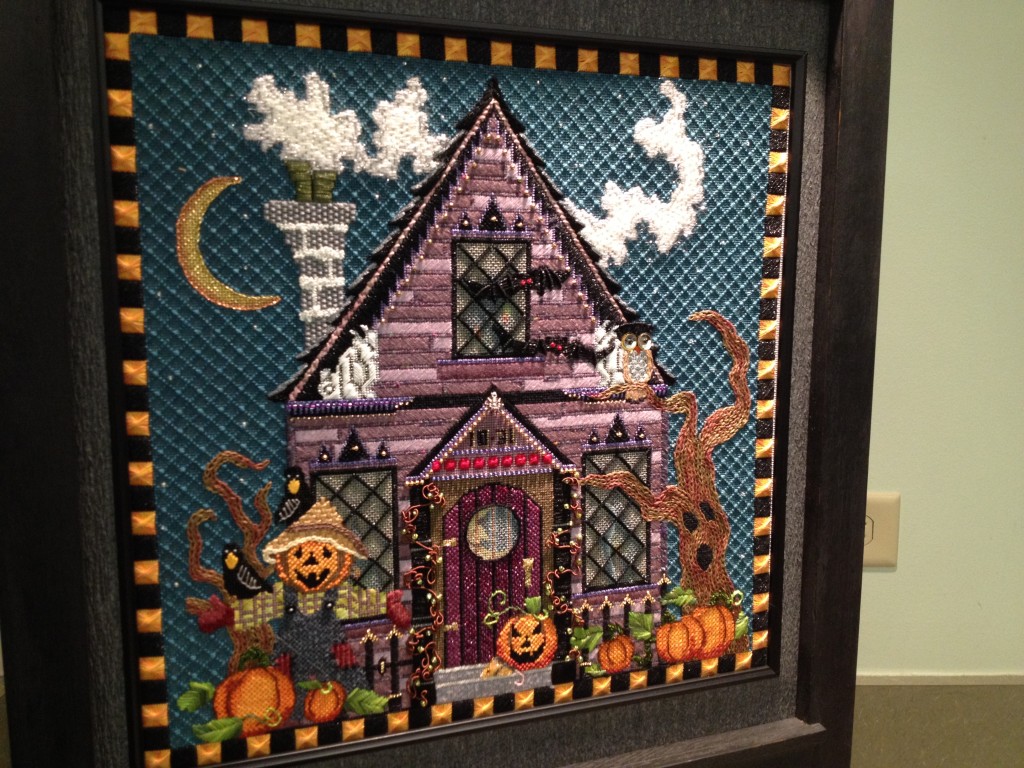 Spectacular detail on this spooktacular needlepoint firescreen.
And, many in the group have been diligently working on their Libby Sturdy-designed Santas.  Well, SOME of us have finished him… and here is Mary M's adorable guy, close up and shown proudly by his stitcher.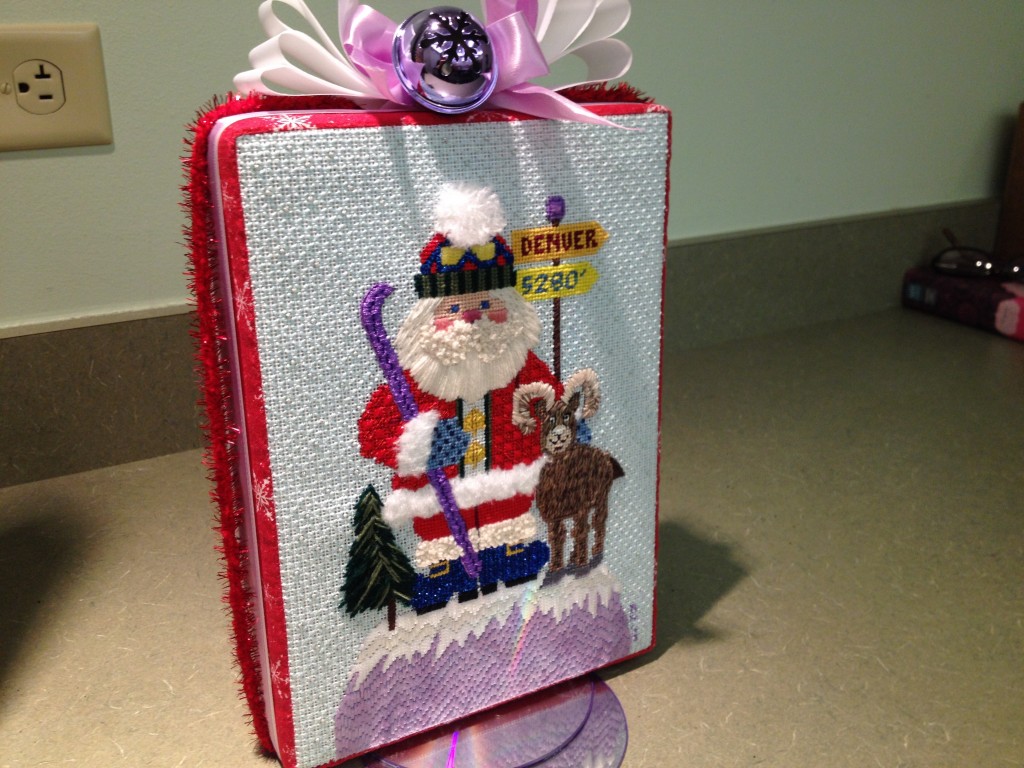 Mary M's Mile High Santa, finished!
Too wonderful, yes?
Well, we had more to ogle, when Carolyn showed off her adorable Witches' Hats piece designed by Caela Tyler. She had great fun stitching it!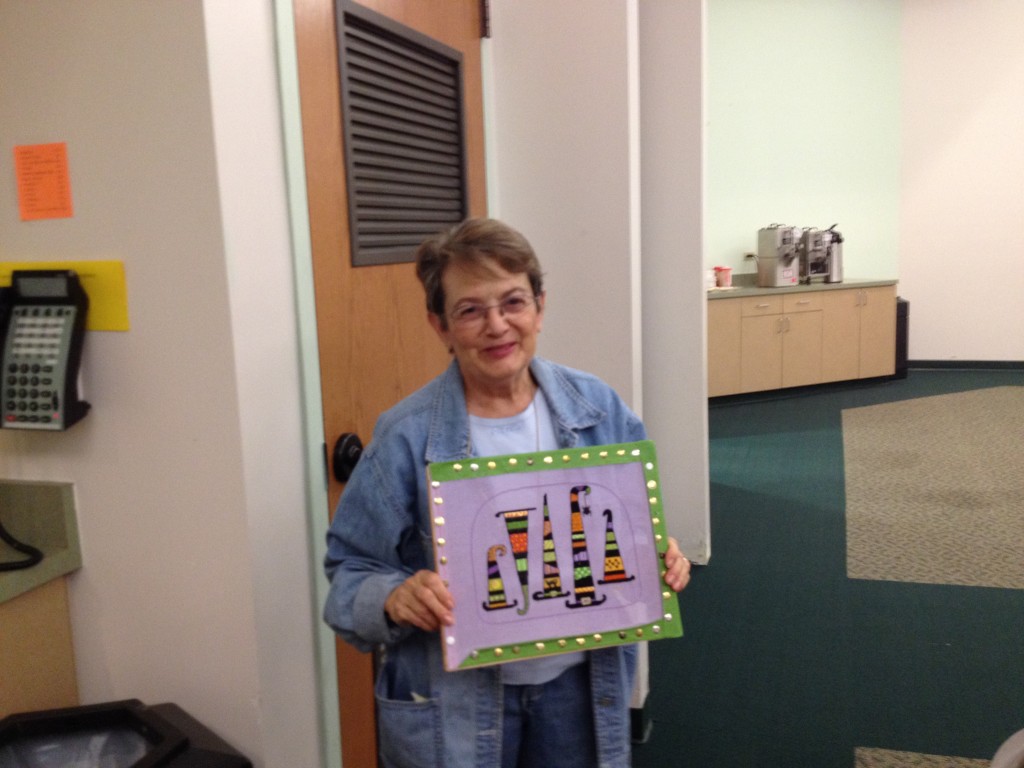 Carolyn's Halloween piece, designed by Caela Tyler.
Here is our upcoming schedule:
OCTOBER 19: Last touches of 'Snow Crystal Tree' will be added — think beads and sparkles! This piece is a wonderful winter design, so it can be enjoyed all season.
NOVEMBER 16: It's our tradition to enjoy a holiday gathering, so expect an enjoyable social event with your stitching friends, old and new!
DECEMBER: No meetings, but there may be a field trip or two in the works. Watch this space!
Colorado Columbine Chapter, American Needlepoint Guild
Meets Third Monday of each month except Aug & Dec., at 6:30 p.m.
Bethany Lutheran Church
4500 E. Hampden Avenue
Cherry Hills Village, CO 80113
Email us at columbineang@gmail.com for more information.
Follow us and see our finished needlepoint on Facebook: https://www.facebook.com/ColoradoColumbineAng