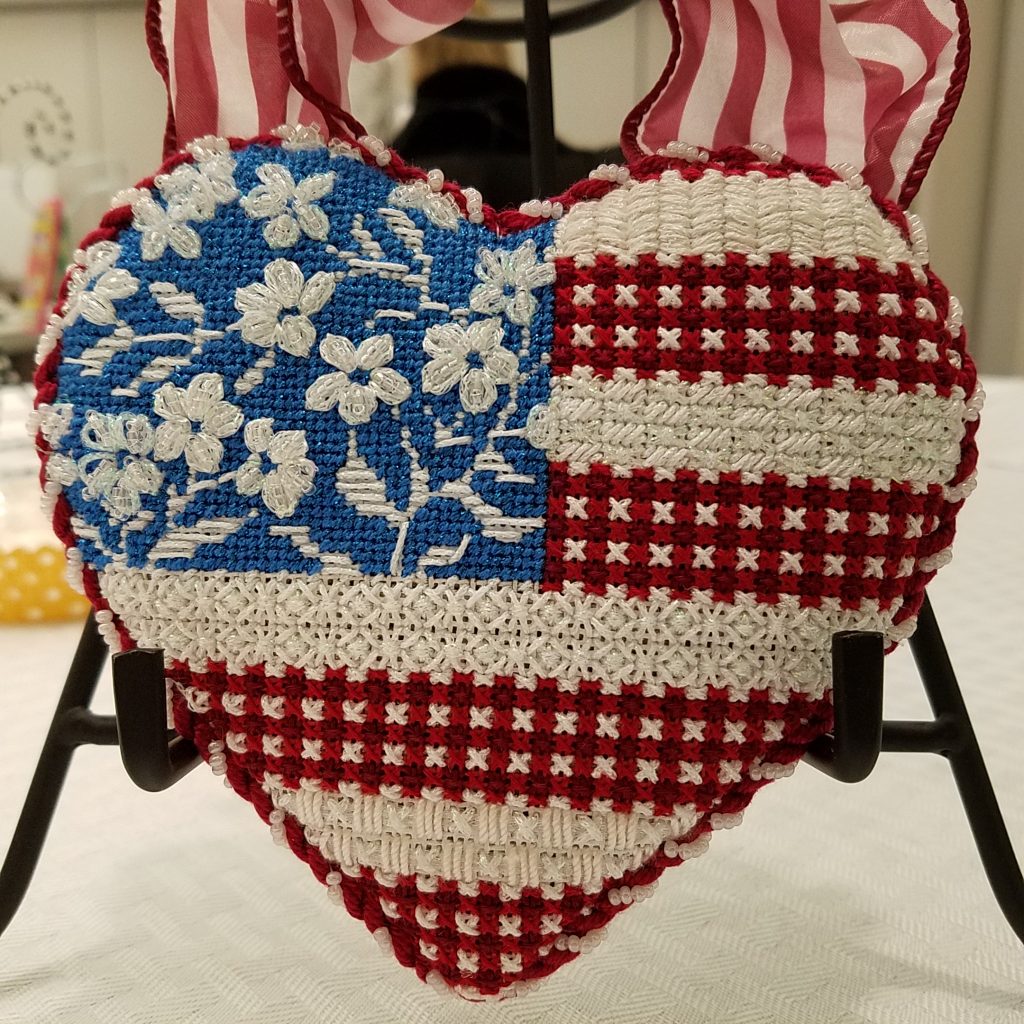 KIRK & BRADLEY 4TH OF JULY FLORAL HEART FLAG,  will be taught by Vickie at the June 19, 2017 meeting! This little jewel has sparkles galore, with a variety of stitches creating the stripes and flowers that practically jump off the blue field.  Cost is $79 if you use your own stash of threads; a bit more if you buy the suggested threads, so put some summer fun on your calendar!
Sign-up for this delightful design's class is the JANUARY 16 meeting!!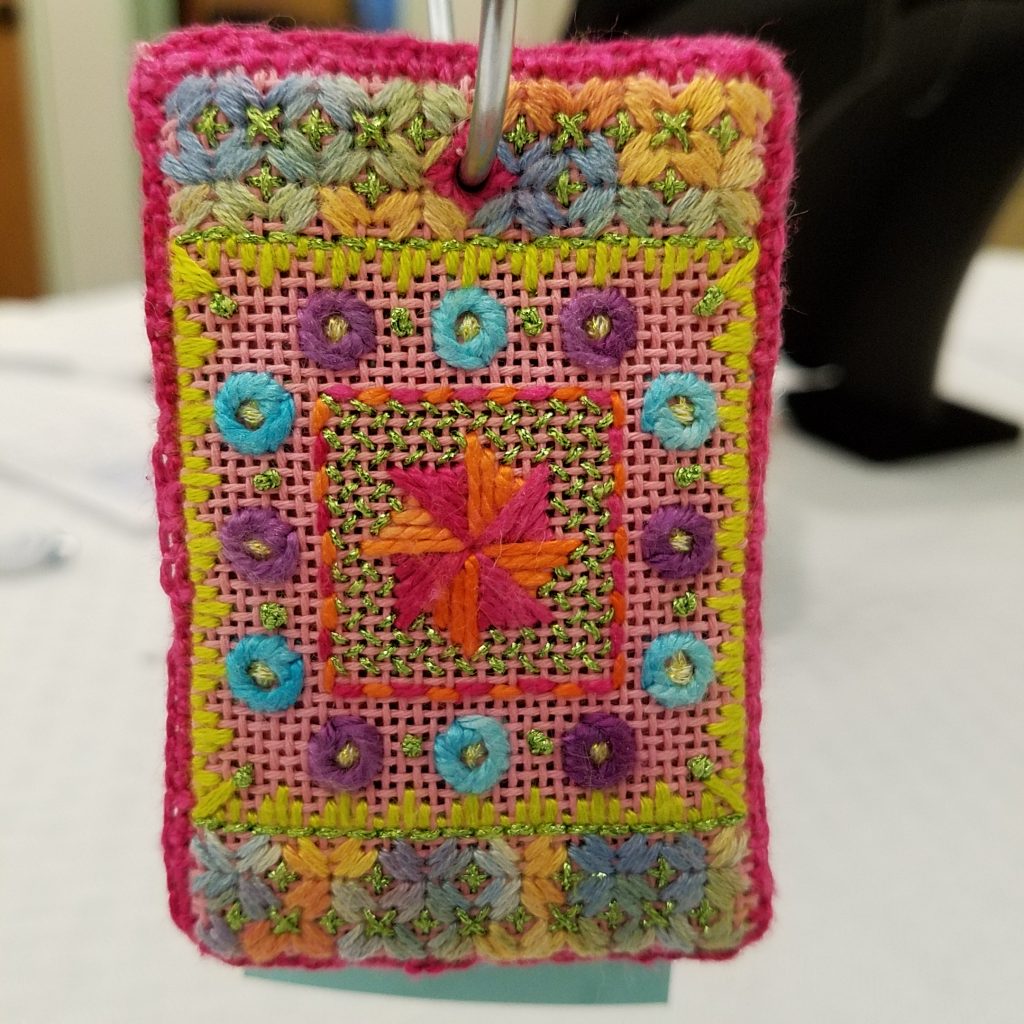 Above, see SPRING GARDEN FLOSS TAG, taught by our very own Madonna on March 20, 2017.  Cost is just $26, but eager stitchers must sign up no later than January's meeting (the 16th)!
Then, while you're at it, be sure to put your names down to meet Mr. Al E. Gator, our fabulous guest at the May 15, 2017 meeting.  Only catch is, you will be creating your own 'Al' with instruction from wonderful teacher, Gretchen W.  The cost is a modest $48, so take a look at this attractive gentleman and sign up for him at the March 20 meeting at the latest. He will work hard as a frame weight for all your canvas sizes!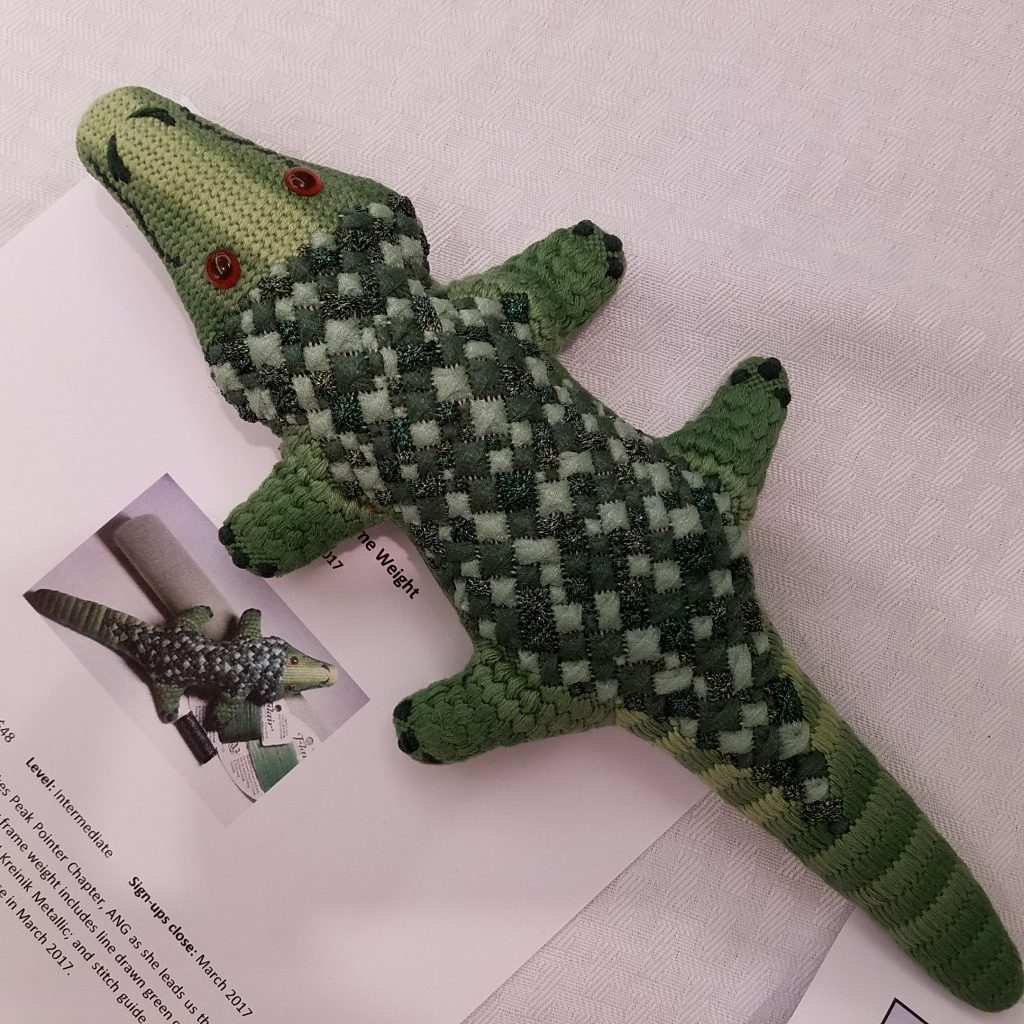 ** Note that payment in full in required upon close of registration, so that the classes supplies can be purchased and kitted in time.
We are presenting the programs well in advance for Spring 2017, to allow everyone adequate time to register.  Thank you!
All of the above brought to you by our incomparable team of Program Co-Directors, Julie & Madonna: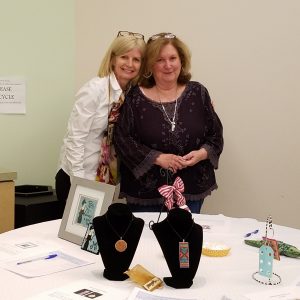 All fab photography by our own Karen B.
Colorado Columbine Chapter, American Needlepoint Guild
Meets third Monday of each month except Aug & Dec., at 6:30 p.m.
Bethany Lutheran Church
4500 E. Hampden Avenue
Cherry Hills Village, CO 80113
Email us at columbineang@gmail.com for more information. Follow us and see our finished needlepoint on Facebook: https://www.facebook.com/ColoradoColumbineAng