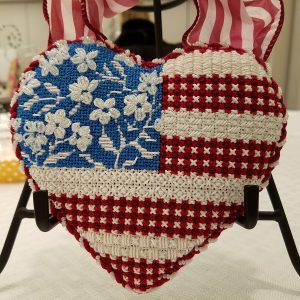 It's summer and the Fourth of July on our minds.  There is nothing more fun than stitching an American flag or any patriotic motif in needlepoint!  Denver members of the Colorado Columbine Chapter of the American Needlepoint Guild will meet in June to stitch a Kirk & Bradley design, Floral Flag Heart.  It's all sparkly threads and cute checks.
More classes for upcoming months will be rolled out by our incomparable team of Program Co-Directors, Julie & Madonna: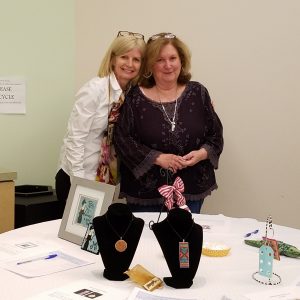 Thank you, ladies!!  Our photography is by Karen B.
Colorado Columbine Chapter, American Needlepoint Guild
Meets third Monday of each month except Aug & Dec., at 6:30 p.m.
Bethany Lutheran Church
4500 E. Hampden Avenue
Cherry Hills Village, CO 80113
Email us at columbineang@gmail.com for more information. Follow us and see our finished needlepoint on Facebook: https://www.facebook.com/ColoradoColumbineAng