After a quick summer break, the needlepoint stitchers of Colorado Columbine Chapter of the American Needlepoint Guild jump back into action with new classes for September. Here's a peek at upcoming projects: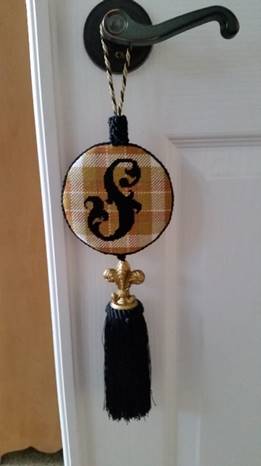 Initial with Birthday Plaid Background Door Hanger or Ornament
4" round
Canvas by Heidi Stanley
Canvas & Guide only $20
Signups close in October 16th
Program is on January 19th
*** *** *** *** *** *** *** *** *** *** *** *** ***
An important note from our Membership Director, Susan:
Hello everyone!
We had such fun at the July meeting with Open Stitch night.  It was awesome to chat and see what everyone is working on!  Nothing short of amazing IMHO!
As we head into fall, I need to start collecting the 2018 membership dues.  I started collecting checks at the July meeting and hope to see all of you in September at the meeting.  Of course if you can't make it you can always mail our fearless leader/president, Gloria, a check (Please refer to your Members Directory for her address).
Dues haven't increased this year (again!) and are $26.00.  Please make your check payable to CCC-ANG.
The deadline for collecting dues is the October meeting so don't delay in sending in your dues.. so you can get back to stitching!  Reminder, you must be up-to-date with your national dues as well.
Thanks in advance for staying on top of your dues and see you all in September!
Susan
If you signed up for these September classes, plan to enjoy quickly stitching these holiday beauties, a menorah ornament kit, approximately 4″x5″ and a peace dove ornament kit, which, finished, is about 5″ across: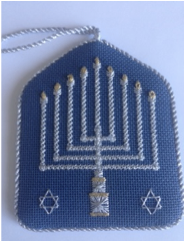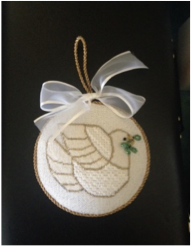 Again, many thanks to our wonderful team of program directors, Madonna and Julie: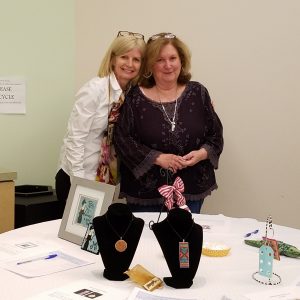 Colorado Columbine Chapter, American Needlepoint Guild
Meets third Monday of each month except Aug & Dec., at 6:30 p.m.
Bethany Lutheran Church
4500 E. Hampden Avenue
Cherry Hills Village, CO 80113
Email us at columbineang@gmail.com for more information. Follow us and see our finished needlepoint on Facebook: https://www.facebook.com/ColoradoColumbineAng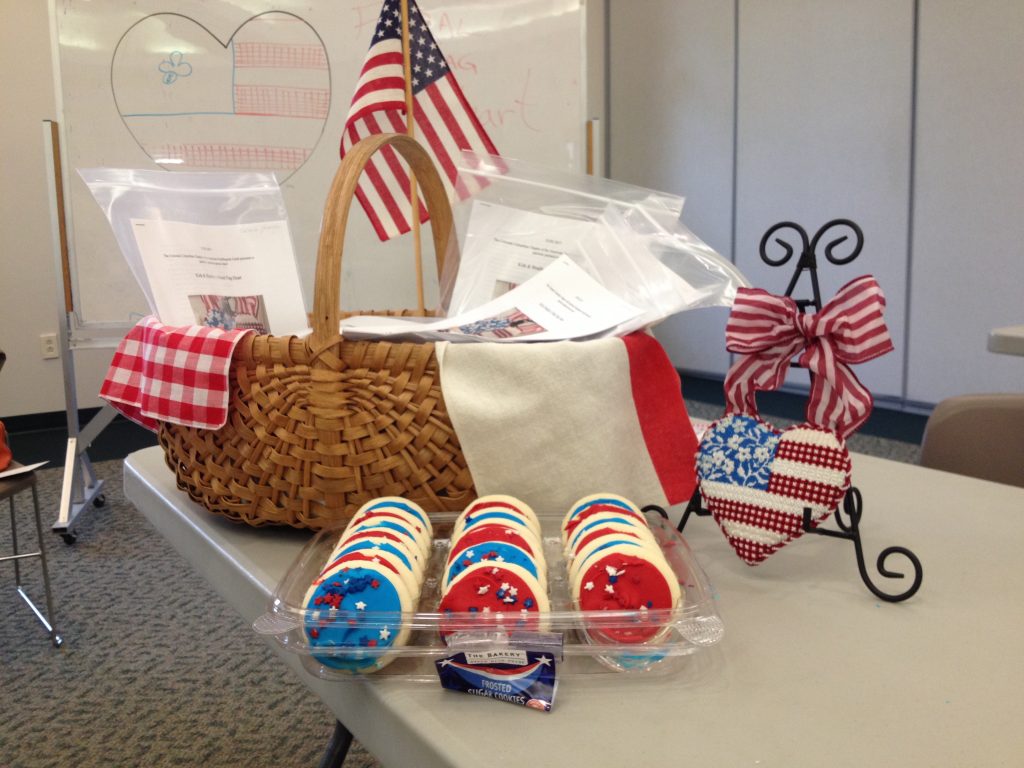 July brings our celebrated holiday of freedom and independence!  Happy Fourth of July to Denver's stitchers of needlepoint from the Colorado Columbine Chapter of the American Needlepoint Guild.
This month, with our Kirk & Bradley Floral Heart Flags underway, we will convene on July 17 (downstairs this time) to meet with the year's instructors of each needlepoint class.  Any questions, problem stitching areas, finer points needing to be discussed will have expert attention all evening.  Let's get those projects off to the finishers!
Again, many thanks to our wonderful team of program directors, Madonna and Julie: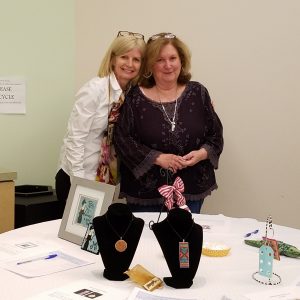 Colorado Columbine Chapter, American Needlepoint Guild
Meets third Monday of each month except Aug & Dec., at 6:30 p.m.
Bethany Lutheran Church
4500 E. Hampden Avenue
Cherry Hills Village, CO 80113
Email us at columbineang@gmail.com for more information. Follow us and see our finished needlepoint on Facebook: https://www.facebook.com/ColoradoColumbineAng