Denver stitchers will induct new Colorado Columbine Chapter board members on April 16 to kick off a new phase of needlepoint offerings! Members are always treated to a catered dinner as they welcome a new slate of officers.
The May meeting will be a Stash Sale to allow members to part with old favorites and go home with 'new' goodies!  Bring nearly new projects, either canvas or threads or both, to allow others to bid on and take home. Voila! Empty shelves for incoming…
In June, we put on our three-cornered hats and begin to stitch up a Painted Pony Patriotic Dress Form to jazz up our Fourth of July displays!  Each stitcher is encouraged to try new threads, stitches and beads to expand stitching horizons:
In July, we get to jump in to this delightful scissors case, laden with beads and counted stitches!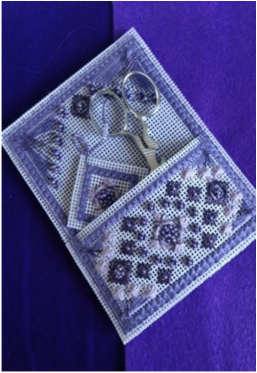 Colorado Columbine Chapter, American Needlepoint Guild
Meets third Monday of each month except Aug & Dec., at 6:30 p.m.
Bethany Lutheran Church
4500 E. Hampden Avenue
Cherry Hills Village, CO 80113
Email us at columbineang@gmail.com for more information.
Follow us and see our finished needlepoint on Facebook: https://www.facebook.com/ColoradoColumbineAng