Stitchers, are you ready to convene in person this fall, 2021?  So are we! Our September meeting will be in person on the 20th at Bethany Lutheran Church.  The meeting will also be zoomed for all of our fans & members from around the country.  There is a festive party being planned by our Lea H., so refreshments and fun are on the menu.  RSVP required.
There will be a M-A-S-S-I-V-E   Show & Tell event, with as many tables as we need for display!  So bring all those finished projects from pandemic year so we can enjoy them!  It's party time!
---
Then, for our OCTOBER 18th meeting, our very own Maura L. will be teaching this adorbs little pumpkin, a fast & easy stitch, with all supplies provided by the Colorado Columbine Chapter.  Tons of colored buttons will be on hand to create your own fall design on 18-ct canvas.  If you are a remote stitcher, supplies will be mailed to you prior to the meeting.  Need to sign up in September, though!  Email Vicki or Leslie.
---
In January, we will be both meeting in person and zooming this class, taught by our very own Nancy T., of this delightful Kathy Rees design from her Holiday Delights range.  Signups begin in September, for instructions & threads!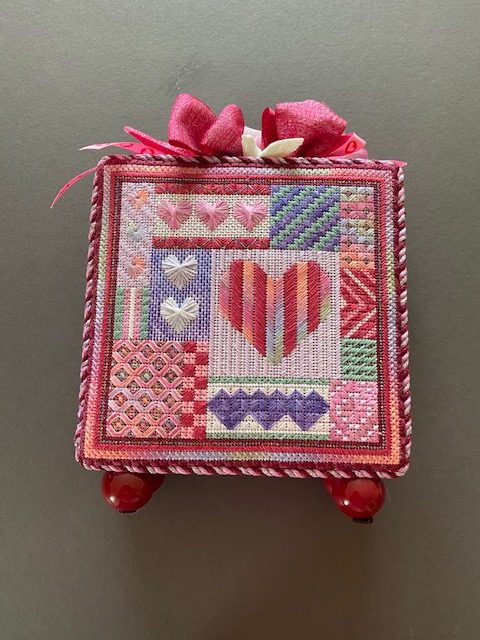 Kathy Rees' Valentine's Day from her Holiday Delights series
Colorado Columbine Chapter, American Needlepoint Guild
Meets third Monday of each month except Aug & Dec., at 6:30 p.m. 
Bethany Lutheran Church
4500 E. Hampden Avenue
Cherry Hills Village, CO 80113
Email us at columbineang@gmail.com for more information about our online meetings. 
Follow us and see our finished needlepoint on Facebook: https://www.facebook.com/ColoradoColumbineAng