CCC-ANG stitchers at work.
Colorado Columbine Chapter of American Needlepoint Guild presents its 2014 schedule of upcoming programs for its regular monthly meetings. Also election results for 2014-15 board positions announced below:
March –Sharon G's Pink Hydrangeas class begins—
             Needlepoint tips about Very Basic Stitches & beginning and ending threads
              Sign-Ups begins for Independence Day ($13)– a charted design
April — Annual Dinner & Installation of Officers
            Needlepoint Tips with Janet Gebow
            Sign-ups continue for 'Independence Day' ($13)
May — G-A-R-A-G-E   S-A-L-E!! Clear out your stash and make room for your new acquisitions! Price your items and donate just 20 percent to Colorado Columbine Chapter!
           Final chance to sign up for Laura Perin's design, 'Independence Day.'
            Needlepoint Tips with Janet Gebow
June — 'Independence Day' project starts with stitching at regular meeting
                Sign-Ups begin for 'Tiny Friendship Gift Boxes'
July –Continue working on Independence Day
         Last chance to sign up for 'Tiny Friendship Gift Boxes'
August –Vacation — there is no meeting this month
September –Tiny Friendship Gift Boxes project begins
                          Needlepoint Tips Resumes with Janet Gebow
October –How to put together Tiny Friendship Gift Boxes
                    Needlepoint Tips with Janet Gebow
November –Holiday Party
December –NO Meeting–Happy Holidays and Joyeux Stitching!
January, 2015 –Janet Gebow Bargello Design, especially designed for our group!
                  ++++++++++++++++++++++++++++++++++++++
ELECTION RESULTS for 2014-15 board positions:
President – Lea K.
1st VP, Programs – Barb G.
Secretary – Karen B.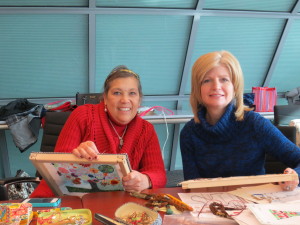 Ritta, at left, with her friend.
R I T T A    S M I T H      1 9 6 4 – 2 0 1 4
We have lost our dear and lovely friend Ritta Smith after her long battle with illness. Our hearts are with her family and friends and we convey our deepest sympathy. Ritta was a talented needlewoman, but more importantly, a mother, wife, daughter and friend to many. She will be deeply missed.
The photo above shows her as we stitchers are likely to remember her, smiling, enjoying every moment with close friends and stitching her beloved needlepoint.  And below, simply as a beautiful person.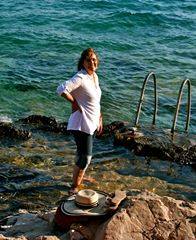 Ritta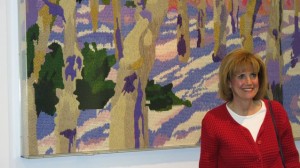 President Lea K.
Elections are upon us at Colorado Columbine Chapter, American Needlepoint Guild. Voting is to be by returned ballot to Treasurer Sandy F. prior to the meeting night of March 17 or by submitting a written ballot available at the meeting by 7 p.m., when voting ends.
The slate of officers up for election:
Lea K., President
Barb G., Programs chair
Madonna O., Membership chair
See everyone on Monday, March 17 at 6:50 p.m. at Bethany Lutheran Church for our general meeting and election of officers for 2014!
Take a look at this summer's project, starting in June…"Independence Day" by designer Laura J. Perin… Full thread list, cost and sign-up sheet will be at the March meeting!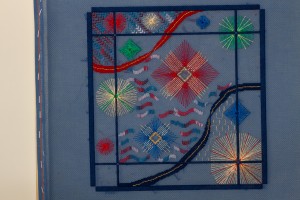 (DESIGN by Laura J. Perin)