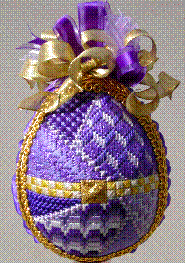 Crazy Quilt Egg
The March meeting of Denver's busiest needlepoint group, the Colorado Columbine Chapter of the American Needlepoint Guild meets on the 21st to stitch the wonderful 'Crazy Quilt Egg' pattern from Rainbow Gallery for spring!
It is on 18-count canvas in purple, white or blue colorways.
Bring some 7×8 stretcher bars if you wish! Enjoy!
ALSO, a message from Jane M.:
B-E-A-D-S!!!!!!!!!
Our ANG chapter will be participating in the Rocky Mountain Bead Society's Bead Bazaar on April 29-30, 2016. Our members have had a great time at events such as this in the past, and I'm really looking forward to our involvement this year. Save the date on your calendars and look for a sign-up email from me in the next couple of weeks.
For more details, see the RMBS website here.
See you there! — Jane M.
Colorado Columbine Chapter, American Needlepoint Guild
WE ARE MEETING IN FELLOWSHIP HALL FOR THE MARCH 21 MEETING!!
Meets Third Monday of each month except Aug & Dec., at 6:30 p.m.
Bethany Lutheran Church
4500 E. Hampden Avenue
Cherry Hills Village, CO 80113
Email us at columbineang@gmail.com for more information.
Follow us and see our finished needlepoint on Facebook: https://www.facebook.com/ColoradoColumbineAng
---
Comments are closed.