We all love Valentines, Fat Tuesday and Presidents Day… here is a joyful and cheeky heart to stitch quickly for February in bright, jewel-like colors!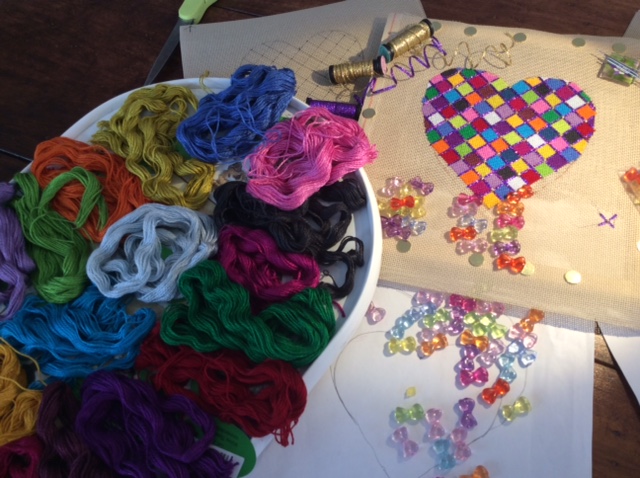 Choose from 18 different colors of Vineyard Silks, such as Nectarine, Baltic, Blazing Sun, Hot Pink, Holiday Red, Sunflower, Jasmine, Brilliant and more… No need to strand on our 18-gauge canvas, where the 54 diamonds are already drawn in an ornament-sized heart shape.  Colorado Columbine is providing threads & canvas for only $10.
Not a member? Better join now! Signups start at the January 20 meeting!
– Harlequin Heart class is TUESDAY, February 18 (due to Presidents Day holiday).
Included in class for your $10 cost:
– 18-gauge canvas drawn with heart & most threads (Vineyard Silk). You choose your colors!
You provide from your stash:
– need 1/16" Kreinik or other ribbon for cross-hatching the pattern (gold, sparkly black, purple or hot, hot pink! Whatever your eye likes).
– gold Kreinik #8 fine braid or gold beads to anchor the cross-hatching.
– your own beads, cording and finishing. Think funky!
Colorado Columbine Chapter, American Needlepoint Guild
Meets third Monday of each month except Aug & Dec., at 6:30 p.m.
Bethany Lutheran Church
4500 E. Hampden Avenue
Cherry Hills Village, CO 80113
Email us at columbineang@gmail.com for more information. 
Follow us and see our finished needlepoint on Facebook: https://www.facebook.com/ColoradoColumbineAng
---
Comments are closed.