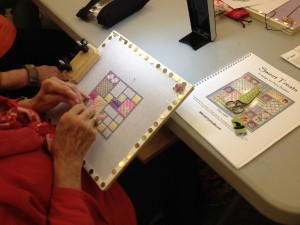 Hello members of the Colorado Columbine Chapter!
Fall is such a great time of year – you can't beat the cooler days and nights, the change of colors, looking forward to all the upcoming holidays and the return indoors to get back to stitching.
October is our membership renewal month.. and we have exciting news for our members!
As you know, we constantly encourage growing our membership.
Need a reason to join?
* Our chapter offers a wonderful selection of various programs each month.
* We belong to the Colorado Consortium and have the opportunity to take classes taught by national instructors in a small classroom environment.
* We also offer members the chance to participate in the Cheyenne Mountain Stitch Retreat, again more classes taught by national instructors.
* Because we are lucky enough to live in a state where several national instructors live, we encourage members to take Pilot classes when they are offered from instructors looking for feedback on a piece before teaching it at seminar.  It is a great way to take a class for a reduced price before its taught nationally!
Now for the exciting news…
You have a chance to receive a year's membership dues for FREE if you bring a new member who signs up and pays their dues.  Details to be announced at an upcoming meeting.
Please make check payable to "CCC ANG"
$26 due in October, but I'll start taking checks at the September meeting or you can mail your dues if you can't attend a meeting.
Mail to:
Susan Yablans
See your chapter handbook for address or email:  suyatraveler@yahoo.com
Thanks,
Susan Yablans
Membership Chair, Colorado Columbine Chapter
A visit to Vietnam is slated for Monday, October 15!  Don't miss it!
Colorado Columbine Chapter, American Needlepoint Guild
Meets third Monday of each month except Aug & Dec., at 6:30 p.m.
Bethany Lutheran Church
4500 E. Hampden Avenue
Cherry Hills Village, CO 80113
Email us at columbineang@gmail.com for more information. 
Follow us and see our finished needlepoint on Facebook: https://www.facebook.com/ColoradoColumbineAng
---
Leave a Reply
You must be logged in to post a comment.