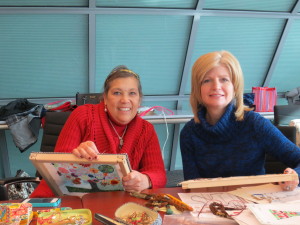 Needlepointing friends.
Denver-area needlepoint stitchers will want to know about the Colorado Columbine Chapter of the American Needlepoint Guild, where we are all about making lifelong friends. Our common interest in doing needlepoint becomes an addictive pleasure that's enhanced by getting together to savor others' needlepoint projects.
The thrill of finding a new canvas design and selecting beautiful needlepoint threads and yarns with which to decorate it is a feeling known to all needlepointers. And we like to share that thrill — if you are a beginning stitcher, no worries! You will find a welcoming and encouraging group of enthusiasts at Colorado Columbine. We take a summer break from our monthly meetings in August, but will meet up again on September 16 for our regular chapter meeting at Bethany Lutheran Church. Check out our Facebook page HERE.
Also in September, starting Friday, Sept. 6 and continuing Saturday & Sunday, Sept. 7 & 8, is the COLORADO NEEDLEPOINT ROADSHOW! hosted by Jill Likes, owner of The Needlepointer in Everett, WA and Karen Barton of The Pine Needle Shop, Custom Needlepoint Finishing in Castle Pines. This is a first-time needlepoint event in Colorado and is a full-on celebration of needlepoint. It is to be held at the Castle Pines Community Center, 7404 Yorkshire Drive, 80108. The three-day format allows plenty of time for shopping — there are many designers participating, bringing 'trunk shows' and new threads and hand-painted canvases.
On Friday, there will be classes in thread painting, ribbon stitching and beading and opportunities to chat with experienced stitchers. On Saturday, a full-day class on a Melissa Shirley design will incorporate some of the techniques you can learn on Friday. So plan to stop by on any (or all) of the three dates in September — bring a piece to stitch or start right in on a new canvas you've selected from all the designers on offer at the Colorado Needlepoint Roadshow. Find out more details HERE and see some amazing needlepoint canvases that will be at the show!
---
Comments are closed.